Zombie Yard Gnome: Style A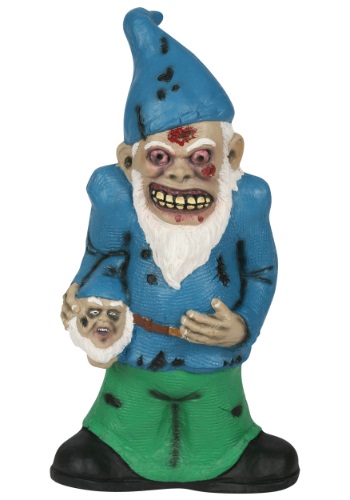 Gnomes are always such a fantastic addition to the garden. They're everywhere and they help protect all of your flowers. Recently however, something peculiar has been going on in everyone's gardens. These once super friendly little green thumb guys got into a few infected shrubs and now they always look a little...hungry. This one even started to eat one of his little buddies! Oh the humanity...or gnomanity! It's a zombie gnome outbreak! Add this Zombie Yard Gnome: Style A to your garden and he'll make sure that no bunnies or squirrels ruin your plants. ...
Buy Now
$19.99
Related Products
Since zombies are essentially dead (technically undead, but we won't get into the details) they really don't have much interest in the opposite sex. And really the only time they get to interact and meet others is when they're sharing the flesh of a fresh cadaver. All the same we're sure your good looks in this mask will be appreciated by both the living and that not-so-living. One half of your face will look remarkably intact, and the other half? Not so much....
View Now
39.99
Zombies just can't keep their mitts off anything these days. Those gruesome ghouls have even infected the Star Wars universe and the guys guarding the Death Star couldn't escape from it. Look at the poor guy wearing this Death Trooper costume - the poor guy must have been just a recruit.
View Now
49.99
Zombie movies and cartoons have become a hit with both adults and kids alike. No longer are zombies just a boring trope in a scary movie, now they are taking center stage in both movies and television shows. Whether your child loves the classic movie zombies or the modern, more human-like zombies, they will love dressing up as a zombie this Halloween.Kids zombie costumes come in all sizes and styles and this Kids Living Dead Zombie Costume is the perfect mix of the classic and modern zombie look. This costume comes complete with all of the gruesome details you'd expect from a classic zombie costume, but with enough modern comforts that they can move around easily on all of their Halloween adventures.This kid's zombie costume is a shirt and pants combo. The pants have an elastic waist for a comfortable fit and the top and pants have matching gray and black poly blend fabric. The molded chest piece attaches with Velcro at the shoulders and gives the costumes it's from-the-grave look. Finally, the molded vinyl mask has slits for the eyes for clear vision and is held in place with an elastic strap. The gory details truly set this full zombie costume apart from the others. Add black boots and gloves to complete the look. Your child will look like they just emerged from the crypt with this realistic costume. No need for any zombie makeup - this costume and mask combo has your child covered this Halloween or for a fun night out in the neighborhood!
View Now
34.99
Comments
comments