Zombie Yard Gnome: Style A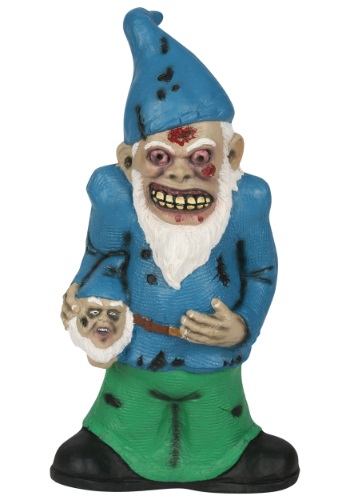 Gnomes are always such a fantastic addition to the garden. They're everywhere and they help protect all of your flowers. Recently however, something peculiar has been going on in everyone's gardens. These once super friendly little green thumb guys got into a few infected shrubs and now they always look a little...hungry. This one even started to eat one of his little buddies! Oh the humanity...or gnomanity! It's a zombie gnome outbreak! Add this Zombie Yard Gnome: Style A to your garden and he'll make sure that no bunnies or squirrels ruin your plants. ...
Buy Now
$19.99
Related Products
Complete your Halloween zombie themed costume with our blood stained stockings. Ideal for zombie school girl, nun, cheerleader etc. Material: Polyester and Nylon One size fits most. Product Dimensions: 66 cm/26 inch Length Please note that the picture is stock photo and the blood print may vary. Package included: 1/3/6 pair Blood Socks
View Now
9.50
And there he goes dodging past a couple tackles right after a beautiful pass. He's making his way down the line just dragging past every defender and now he's on the breakaway sideline! He's at the 30, the 20! Oh but wait a minute there's a defender catching up to him...He goes for the diving tackle and gets a hold of a leg! Oh but the running back keeps going! Wait a minute where did his leg go? The defender still has it! He's hopping passed the ten, the five, and he dives for the touchdown!!! I can't say I've ever seen anything like it! Wait a minute, he's standing up for some sort of celebration. Oh my goodness he's actually eating the ball! Somebody go tell our very first professional Zombie football player that the ball is not a brain! You just can't write this kind of stuff! (well unless you're a copywriter here!) Sure, zombie football players might not have the speed of a regular football player, but they're much more tenacious. Once you turn your child into a member of the undead team with this zombie costume, don't be surprised if he keeps chasing after the guy with the football long after the game is over. His game isn't over until he eats his brains. Let's me sure he doesn't do that. It might result in a little bit more than a 15 yard penalty!
View Now
29.99
It looks like you have been infected! There's no denying that you have the newest strain of the crippling virus where you get turned into a flesh eating zombie. Sorry bud! Well, you can always look on the bright side, your veins look way cooler than usual, Use this Possessed Veins Temporary Tattoo to become a sight that people wish they could unsee. Use it for a number of different frightening looks!
View Now
4.99