Womens Gothic Darling Costume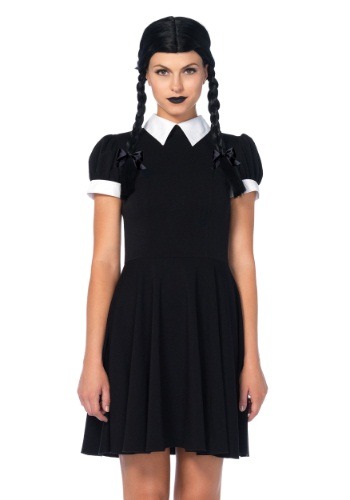 Normally it's pretty difficult to be a walking contradiction... unless you're a zombie. They got the whole living-dead thing going on for them. But other than that, being such an absurd paradox has been nearly impossible, until now. Check out this Gothic Darling Costume!You'll be the cutest creep (or the creepiest cutie if you prefer) at the party when you slip into this black princess-cut dress and toss on this dark skinny braided wig! Avoid sunlight for a good while and apply a blood-red or a black lipstick and this transformation is complete! ...
Buy Now
$49.99
Related Products
Make your 'walker' costume the best with some super realistic rot effects! The zombies on The Walking Dead have been roaming around for quite a while, so you're going to have to take extra steps if you want to look like a member of the cast. This FX Transfers are makeup quality graphics, with the ease of a temporary tatto. Add this to your zombie makeup supply, and you're sure to have an un-dead look that everyone will be dying for!
View Now
14.99
It always seems to start the same way: an innocent school dance, the most popular couple in school, and a crazy dare. But before you know it, zombies (or other assorted monsters/demons/devils) have taken over and everyone is running for the exits! But zombies and other undead creatures have come a long way since bad 80's horror movies - it seems as though zombies (of the fictional variety) are everywhere we turn. From hit television shows to mainstream films, zombies have truly made their mark on pop culture.Beyond just fictional zombies and the undead, people are even preparing for a real zombie apocalypse. Now, whether or not a zombie takeover is imminent, you can still get in on the fun with this Homecoming Horror Costume! From the 100% polyester dress with printed blood stains to the 'Drop Dead Gorgeous' sash, this zombie costume will have you ready for your next theme party or for Halloween. No matter what, don't forget the tiara with connected knife to give you a look that is truly undead.Let's be honest, we've all thought about become Queen Bee at some point in our lives and what better time than a high school dance or Halloween? You'll be able to take over your next event with your lifeless eyes and ghostly appearance - everyone else will be running for the halls! Become the homecoming queen at Zombie High in this Homecoming Horror Costume! Add glittery shoes and zombie makeup to complete your look and you will rule the school - and not just because you are popular!
View Now
29.99
It's costume time and they're trying to make you give up the suit to wear some tacky zombie costume. Are you going to let them get away with that? Some guys just need to wear the suit. Don't worry. We've got your back. This Men's OppoSuits Zombiac Suit combines the gory look of a zombie, with the class of a suit, so you can celebrate the scary season AND you can keep the suit, so your friends will stop bothering you to wear that dreadful zombie costume they have picked out for you. That's a win-win situation for everyone.
View Now
99.99