Spiritless Cheerleader Child Costume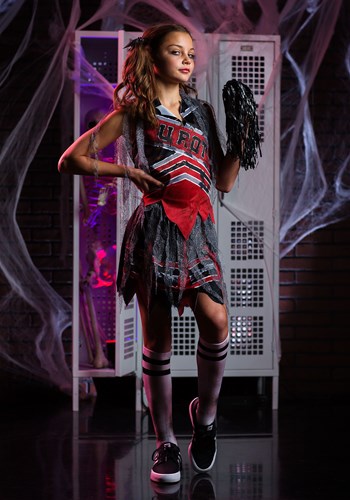 Brains are gray, guts are red. Cheer for the Rotten U. Undead!" The "U ROT" cheer squad is looking for you. We're looking for the best and the brightest (er, make that, worst & dullest) to join our macabre ranks. It doesn't matter if you're a zombie, ghost, or ghoul, (though ghosts won't make good lifters but maybe jumpers!) we are accepting all monsters for our nationally ranked cheer squad. If you think you have what it takes, tryouts are next Thursday. In the graveyard. Get ready to scream loud enough to wake the dead! We've ...
Buy Now
$24.99
Related Products
Zombama Mask. Includes One 3/4 mask
View Now
16.99
Men's Premium T-Shirt - This blood stain is perfect as a Halloween costume to the next horror party or carnival. Cool Horror, Zombie, splatter motif sore as the perfect complement to latex, scars, horns or open fracture. - This premium t-shirt is as close to perfect as can be. Its optimized for all types of print and will quickly become your favorite t-shirt. Soft, comfortable and durable, this is a definite must-own and a Spreadshirt recommended product. 100% cotton (heather gray is 95%/5% viscose) Fabric Weight: 5.29 oz (heavyweight) Wide range of sizes from S-5XL Fairly produced, certified and triple audited. Double stitched, reinforced seams at shoulder, sleeve, collar and waist Optimized for beautiful brilliance across all printing methods Imported; processed and printed in the U.S.A. + + + With hundreds of designs - Spreadshirt - is the online destination for your favorite tees. Many of our designs are available in mens, womens, youth, kids and baby sizes and come in a variety of different colors. Check our Rakuten store to see them all!
View Now
25.49
This ninja does not play around! You might have gotten him last time, but he's back for revenge. And he's going to stop until he gets it. Word of advice, zombies are ruthless so you may want to keep quite and avoid attracting attention if this little guy has been lurking around.
View Now
34.99