Men's OppoSuits Zombiac Suit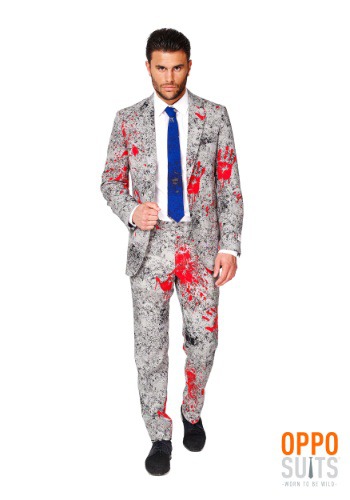 It's costume time and they're trying to make you give up the suit to wear some tacky zombie costume. Are you going to let them get away with that? Some guys just need to wear the suit. Don't worry. We've got your back. This Men's OppoSuits Zombiac Suit combines the gory look of a zombie, with the class of a suit, so you can celebrate the scary season AND you can keep the suit, so your friends will stop bothering you to wear that dreadful zombie costume they have picked out for you. That's ...
Buy Now
$99.99
Related Products
Orange may be the new black, but for the spirit realm, gray is where it's at. For the last several centuries, ghosts and demons alike have preferred the traditional slimming and classically frightening black for their otherworldly garb. Not only does it hide zombie guts and blood splatter from messy vampire attacks, but it is extremely effective at helping to scare pesky peasants. Plus, black allows one to hide in the shadows located in dark corners of poorly lit rooms, at the top of the stairs, and even at the edge of an ominous forest.Yet, up and coming phantoms and the recently undead are eschewing the traditional black in favor of the much more flattering gray, which complements pale, bloodless skin better. Gray also hides cobwebs well and anyone who has every spent the night in a coffin knows that spiders leave cobwebs everywhere. Plus, you may have been a 'summer' in life but, in the afterlife, everyone's color palette is death. Your rotting green flesh is best accentuated by this new color trend.Embrace this new look with an ankle length dress featuring a tattered hemline and a trendy capelet. It offers just the right combination of glamour and gloom that well-dressed spirits love. Plus, the veiled hat and glovelets allow you to bring a certain amount of sophistication to your hauntings.
View Now
34.99
When the zombie apocalypse finally comes (and it IS coming), what will be your weapon of choice? A .357 magnum revolver? Too noisy. You might attract more walkers. A bowie knife? Not enough range to keep those nasty things at a safe distance. What about a katana? The classic samurai sword? Yes, Michonne found the perfect balance! This Walking Dead Michonne Role-Play Sword is a cool, collectible toy weapon based on the one used by the signature character from the AMC series. You work on your zombie-slaying technique with the faux weapon until the real zombie apocalypse comes, so you'll be prepared for the real thing!
View Now
28.99
Is your child looking for a weapon to complete his zombie slayer look? This crossbow toy will be just the weapon for his pint sized apocalypse. He can take on all the neighborhood walkers and make sure that his candy stash stays safe. With this fun toy, he could be a big game hunter, or a world famous explorer, or even a trick shot specialist. But make sure he practices with the included target. His new fans will be expecting a real sharp shooting performance!
View Now
19.99
Comments
comments