Groundbreaker Zombie - Graveyard Outdoor Decorations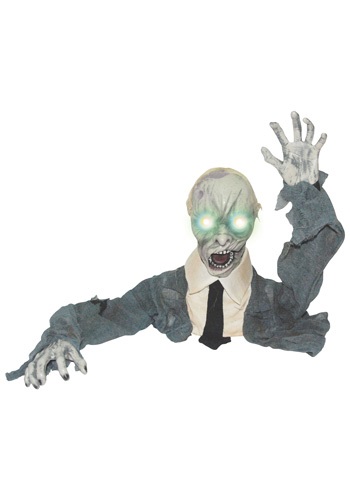 Looks like the dead are just not wanting to stay dead in the ground! This electronic zombie decoration has light up eyes and turns its head while it moans and plays creepy music. There is an on and off switch underneath neck area where there is also a metal stand to allow the zombie to appear to be coming out of the ground. The arms of the zombie are bendable so you can put them in any position you'd like. The zombie does have white hair that is hard to see to see in the picture. This is the ...
Buy Now
$59.99
Related Products
This zombie will decay away if she doesn't get some brains in his tummy soon! This Child Zombie Halloween Costume is a scary costume for kids. Your friends will run in fear when they see you wearing this very scary zombie costume.
View Now
29.99
Are you a ghost pirate cursed to sail the seas for all of eternity? Well, things can get pretty lonely out there, having some company could be nice. Why not an animal companion? Check out this Zombie Parrot Shoulder Sitter! Now you can always have someone to talk to while faring the seven seas.This Zombie Parrot will be the perfect 1st Mate! Nobody likes to repeat themselves, and now with this creepy little guy, you'll never have to repeat your orders again. If any members of your ghastly crew failed to listen, your new pet won't be afraid to squawk orders until their ears bleed. This Parrot, before he was zombified, had ridden on the shoulders of many great captains. Over that time he had become a master navigator, so you'll never have to be worried about being lost at sea! You'll always have a bird's eye view with this little guy by your side. Grab this Zombie Parrot prop and have more than just a pet or a 1st Mate, have a ghost pirate's best friend!
View Now
12.99
Is your child looking for a weapon to complete his zombie slayer look? This crossbow toy will be just the weapon for his pint sized apocalypse. He can take on all the neighborhood walkers and make sure that his candy stash stays safe. With this fun toy, he could be a big game hunter, or a world famous explorer, or even a trick shot specialist. But make sure he practices with the included target. His new fans will be expecting a real sharp shooting performance!
View Now
19.99
Comments
comments