Drop Dead Prom Queen Costume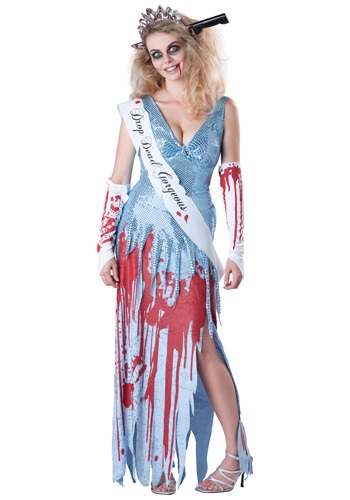 Perhaps she takes the title "Drop Dead Gorgeous" a little to seriously? This zombie prom queen isn't about to let anyone get in the way of a killer good time. Be sure to pick up some fake blood to give your prom queen an extra GORE-geous look!
Buy Now
$39.99
Related Products
Kids Dead Zone Zombie Costume Halloween Costumes - This scary Dead Zone Zombie Costume includes the football costume pullover shirt with numerical print and detachable shoulder pads, pants with attached mesh dags, mesh scarf, and the vinyl helmet. Socks not included. Makeup available separately. ZOMB71-CZ12
View Now
28.73
This young zombie doesn't have enough brains to finish her course work. The Zombie School Costume for Kids includes a child's tartan skirt, tattered jacket with mock shirt, and striped tie. Add face paint and fake blood to make this ensemble seem even scarier on Halloween.
View Now
39.99
Normally it's pretty difficult to be a walking contradiction... unless you're a zombie. They got the whole living-dead thing going on for them. But other than that, being such an absurd paradox has been nearly impossible, until now. Check out this Gothic Darling Costume!You'll be the cutest creep (or the creepiest cutie if you prefer) at the party when you slip into this black princess-cut dress and toss on this dark skinny braided wig! Avoid sunlight for a good while and apply a blood-red or a black lipstick and this transformation is complete! You'll look like you belong in a family of macabre enthusiasts with this guise on! Now, finally, you can strut around town as the coolest oxymoron ever. You'll be painfully beautiful, a living embodiment of sweet agony and yet when you're wearing this outfit for Halloween, you'll appear oddly normal. If that doesn't sit well with you don't worry, you can still freak everyone out with your extensive knowledge about the supernatural and other superstitious rituals. Awesome, right?! No one will really know what to think about you. Should they fear you? Should they laugh with you? They won't have a clue, so have some fun with the awkward silences that are sure to occur!Don't just settle and choose between creepy and cute when you can easily have both! Be the ultimate walking contradiction this Halloween with this Gothic Darling Costume. Leave everyone speechless when you tell them all about your favorite hobbies, ballet and raising spiders, of course!
View Now
49.99