Kids Punk Zombie Costume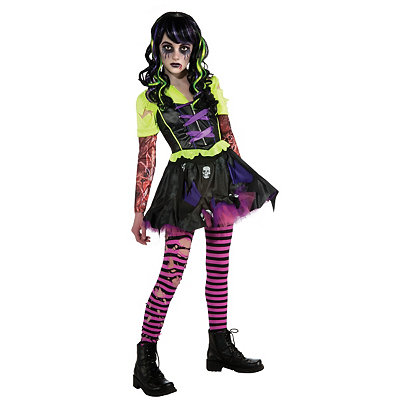 rntEven zombies can be cute! This green and purple Zombet Girls Zombie Costume sounds like a bruise but looks adorable. Get ready to do the monster mash on Halloween when you don this multicolor top with laced bodice and matching skirt.rntrnrntrnttThe Zombet Girls Zombie Costume consists of a black; purple and green multicolor top with a laced bodice; and a matching skirtrntrnttWig; stockings; shoes and makeup not includedrntrnttMaterials/ Fabrics- COMPLETE GARMENT 100% POLYESTERrntrnttWash/Care Instructions- Hand ...
Buy Now
$34.99
Related Products
Includes: Shirt, pants, mask, gloves. Not included: Shoes.
View Now
32.39
rntJoin the bride and groom in their everlasting union as the sweetly scary Zombie Flower Girl Child Costume! Terrify all the wedding guests in this darling and dark white dress with stitching details and torn hem. Float through the night with your eerie veil that leaves people with a chill that has nothing to do with the night air. The wispy white veil almost makes you look innocent; but your demeanor is enough for everyone to run before the reception.rnrntrnttZombie Flower Girl Child Costume includes:rnttrntttrnttttDressrntttrnttttVeilrntttrnttttTrainrnttrntrntrnttTights and shoes not includedrntrnttZipper closurerntrnttMaterials: 100% PolyesterrntrnttWash/Care Instructions: Hand Wash Cold. Dry Flat. No Bleach. Do Not Dry Clean.rn
View Now
54.99
This item includes bloody brain headpiece. Does not include makeup or costume.
View Now
13.95
Comments
comments