Adult Zombie Beer Maiden Costume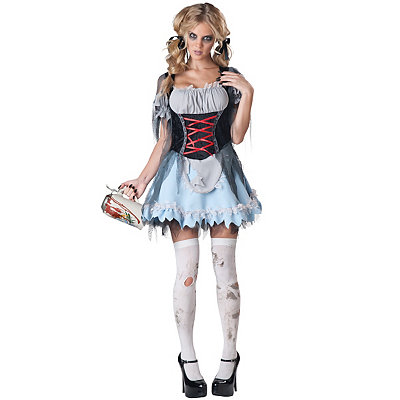 Yodel-le-he-boo! Give the spirits a hangover til next Halloween when you wear this Zombie Beer Maiden Adult Womens Costume. Serve up the drafts in this tattered lace-up dress with tiny ripped apron and petticoat. Zombie Beer Maiden Adult Womens Costume includes:Dress with attached petticoatApronMesh dagsNot included:Beer steinMakeupSocksHair tiesMaterials:100% Polyester exclusive of decorationWash/Care Instructions:Machine wash coldGentle cycleNo bleachHang dryCool iron if ...
Buy Now
$49.99
Related Products
Includes: Jumpsuit, vest, belt with holseter, knee pads, hood with mask. Not included: Shoes.
View Now
33.49
School's a real drag. With all the staggering through the halls and mindless groaning, it almost makes you feel a little bit like a...ZOMBIE! At least you don't go around feasting on the brains of other classmates, but if you want to start getting into that sort of thing, we can help transform you into one of the undead with this gory, yet strangely cute costume.
View Now
54.99
Zombie Cheerleader.
View Now
19.99
Comments
comments