Adult Daryl Dixon Vest - The Walking Dead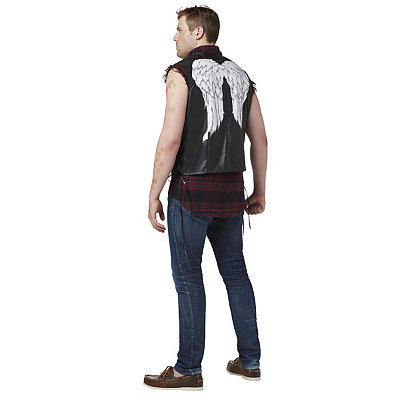 Take down your share of walkers on Halloween and look good doing it in this officially licensed Walking Dead Daryl Dixon Adult Men's Vest. Black faux leather vest with printed wings is just what you need to look like the most fierce zombie slayer on TV. Complete your Daryl Dixon Costume with the zombie ear necklace (not included)!Officially licensed Walking Dead Daryl Adult Men's Vest includes: Vest Ear Necklace; Shoes; Jeans and Shirt not included Materials: 100% Polyurethane Wash/Care Instructions: Do not washDo not ...
Buy Now
$29.99
Related Products
This The Walking Dead Two Picture Logo T-Shirt is 100% Cotton, pre-shrunk, liscensed and brand new.
View Now
8.98
Do you plan on indulging in some adult beverages this St. Patricks Day. Then maybe you'll end up looking like these guys. This black, 100% cotton adult tank top features drunken zombies rising from the dead with their favorite accessory in hand?a beer! This one of a kind shirt also features the words The Walking Drunk. Don't forget to order yours today
View Now
14.95
The Walking Dead My Walker Killing shirt tank top. Featuring blood splatter and My Walker Killing Shirt text on front. Officially licensed and made from 100% cotton.
View Now
24.46
Comments
comments