Zombie Gnome Sidestepper - Decorations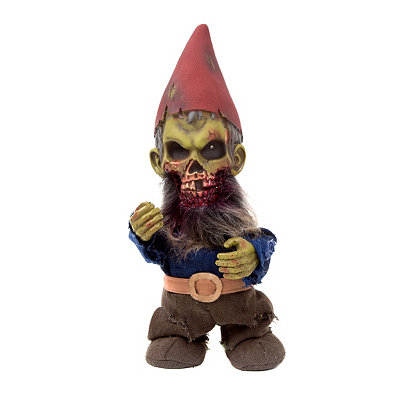 rntrnttAdd a certain kind of mysterious spook to your zombie scene; lawn or garden with this Zombie Gnome Sidestepper. This animated decoration features LED light-up eyes; motion and sound.rnttrntrnttrntttThe Zombie Gnome Sidestepper includes:rntttrnttttrntttttGnomernttttrntttttBatteries (3 AA)rntttrnttrnttrntttMaterials:rntttrnttttrntttttPlasticrntttrnttrnttrntttMeasurements:rntttrnttttrntttttHeight - 11.42"rnttttrntttttLength - 3.94"rnttttrntttttWidth - 5.12"rntttrnttrnttrntttFor indoor or covered outdoor userntrnt Get Product ...
Buy Now
$0.00
Related Products
Make your Zombie Halloween party come alive with this realistic Zombies Backdrop Banner. Halloween decorations like this zombie backdrop fill the room with an atmosphere of fear and fun. Set out some zombie photo booth props in front of this party background and watch as your zombie party guests smiling pretty and posting pictures of your Halloween party! ! Plastic. (3 pcs. per set) 6 ft. x 9 ft. Simple assembly required.
View Now
22.45
This high-quality art print reproduction boasts sharp detail and vivid imagery. Printed on heavy stock paper using a high-end digital printing press guarantees: color accuracy, durable imaging, and the highest print resolution available. This print is 100% Made in America. We use only fine art inks, which are resistant to fading at least 75 years, museum-quality archival quality, with acid-free pigment to ensure the print doesn't discolor over time. Paper size measures 9 x 12 inches, with approx. 1/8 inch white border, perfect for framing.
View Now
7.99
Turn laughter into screeches with our 33 1/2" x 65" Zombie Window Magic Plastic Decoration. Perfect Zombie effects / props for Zombie theme for parties or trick or treat events.
View Now
3.50
Comments
comments