Zombie Gnome Sidestepper - Decorations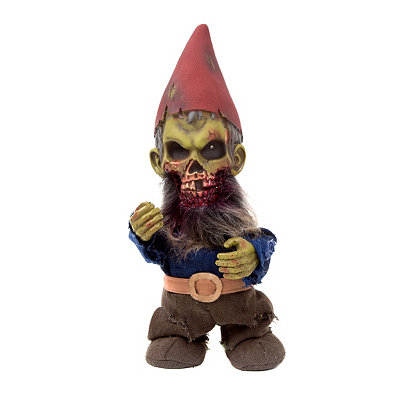 rntrnttAdd a certain kind of mysterious spook to your zombie scene; lawn or garden with this Zombie Gnome Sidestepper. This animated decoration features LED light-up eyes; motion and sound.rnttrntrnttrntttThe Zombie Gnome Sidestepper includes:rntttrnttttrntttttGnomernttttrntttttBatteries (3 AA)rntttrnttrnttrntttMaterials:rntttrnttttrntttttPlasticrntttrnttrnttrntttMeasurements:rntttrnttttrntttttHeight - 11.42"rnttttrntttttLength - 3.94"rnttttrntttttWidth - 5.12"rntttrnttrnttrntttFor indoor or covered outdoor userntrnt Get Product ...
Buy Now
$0.00
Related Products
This high-quality art print reproduction boasts sharp detail and vivid imagery. Printed on heavy stock paper using a high-end digital printing press guarantees: color accuracy, durable imaging, and the highest print resolution available. This print is 100% Made in America. We use only fine art inks, which are resistant to fading at least 75 years, museum-quality archival quality, with acid-free pigment to ensure the print doesn't discolor over time. Paper size measures 9 x 12 inches, with approx. 1/8 inch white border, perfect for framing.
View Now
7.99
These bloody severed body part props will blend in nicely with your macabre display. Perfect for crime scenes and bloody butcher shop displays, makes a great gag gift. Latex construction with a lot of detail. *All Props are for entertainment purposes Scream at your own risk!
View Now
19.94
Let us out! Spook and scare passersby when you decorate for Halloween with the Window Zombie poster. The prospect of these evil creatures getting any closer is indeed scary - they are already dead and looking for you to join them. Place each generously sized 3 foot by 5 foot window poster in a window using the removable adhesive square then at night illuminate from behind with an ordinary household lamp and the image pops. WOWindow posters are brilliantly colored translucent window posters; when placed on a window and illuminated from behind with an ordinary household lamp.The posters are made of plastic film and each poster adheres with 4 removable adhesive squares (included)Each window poster measures 3' by 5'; includes two posters
View Now
19.99
Comments
comments