Zombie Gnome Sidestepper - Decorations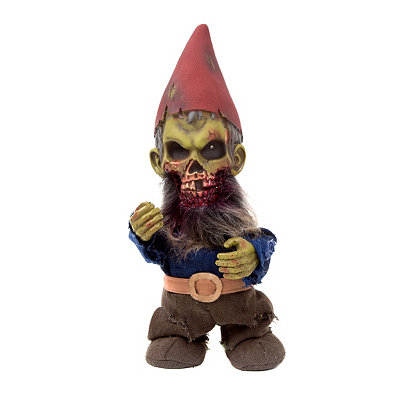 rntrnttAdd a certain kind of mysterious spook to your zombie scene; lawn or garden with this Zombie Gnome Sidestepper. This animated decoration features LED light-up eyes; motion and sound.rnttrntrnttrntttThe Zombie Gnome Sidestepper includes:rntttrnttttrntttttGnomernttttrntttttBatteries (3 AA)rntttrnttrnttrntttMaterials:rntttrnttttrntttttPlasticrntttrnttrnttrntttMeasurements:rntttrnttttrntttttHeight - 11.42"rnttttrntttttLength - 3.94"rnttttrntttttWidth - 5.12"rntttrnttrnttrntttFor indoor or covered outdoor userntrnt Get Product ...
Buy Now
$0.00
Related Products
Try these Brain Freeze Ice Cube Trays and be the smartest drinker at the party! Its hip to be square when youre using these cubes, so bottoms up, you brainiac! This durable, dishwasher-safe tray makes 4-brain shaped ice cubes.
View Now
11.89
Large Halloween monster hands cupcake picks 6 pack. If you are into Zombies than these hands are perfect to top off your cake.
View Now
6.44
rntThe undead is rising and seeking vengeance; and you can see it first hand with this Light-up Ground Breaker Zombie in your yard! This zombie glows green from the eyes and mouth as it uses all of its might to pull itself from the burial ground. Act quick or else this zombie will take you as its next victim!rnrntrnttBatteries included.rntrnttBattery type: LR44rntrnttMaterials: StyrofoamrntrnttDimensions: H x L x W 18.1" x 2.4" x 31.1"rn
View Now
29.99
Comments
comments