19 Inch Caution Zombie Area Sign - Decorations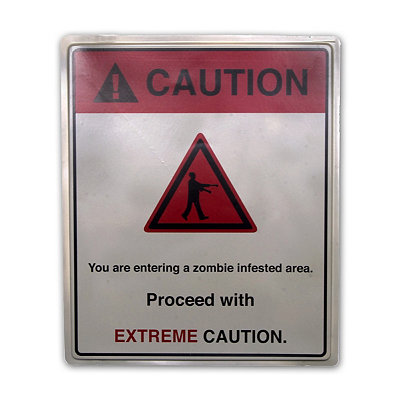 rntSafety warnings are important but we often fail to heed them. Have a frightfully fun Halloween when you post this Extreme Caution Zombie warning sign indoors or out - heed it or else! This sign also features a hook on the back that makes it easy to hang and the perfect decoration!rnrntrnttIndoor userntrnttDimensions: 19H" X 16L" X .5D"rntrnttWeight: 1 poundrntrnttMaterial: Vacu-form plasticrntrnttCare: Spot ...
Buy Now
$12.99
Related Products
Create realistic looking scenes in your yard this Halloween when you put up some of the items located on our site. The Creepy Man Eater Standing Statue shows a long grey haired zombie in a white dirt and blood covered robe. The zombie has it's mouth open and bloody and is holding an equally bloody human hand. No one wants to get eaten by the undead, so they'll try to avoid your house on Halloween night. This is a scary prop that will look completely real from a distance. Freak out your friends, neighbors and even yourself this Halloween with special decorations such as this one.
View Now
72.80
This high-quality art print reproduction boasts sharp detail and vivid imagery. Printed on heavy stock paper using a high-end digital printing press guarantees: color accuracy, durable imaging, and the highest print resolution available. This print is 100% Made in America. We use only fine art inks, which are resistant to fading at least 75 years, museum-quality archival quality, with acid-free pigment to ensure the print doesn't discolor over time. Paper size measures 9 x 12 inches, with approx. 1/8 inch white border, perfect for framing.
View Now
7.99
rntGive your Halloween horror scene a gory touch with this Rotten Zombie Head. The decaying zombie latex head is sure to send chills down your guests spine. The perfect way to decorate your haunted house.rnrntrnttH x W: 16" x 3"rntrnttMaterials: Latexrn
View Now
29.99
Comments
comments