Zombie Flamingo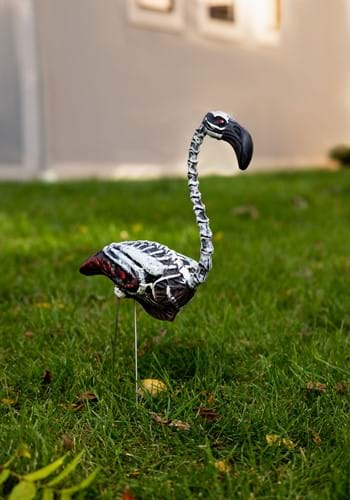 You've seen pink flamingo lawn ornaments before, right? They're sort of a classic piece of Americana. They've become more rare than they used to be, in fact, they were thrown away en masse in the 1990s. Problem is, they're back and they're hungry. We thought we were through with the pesky things, but little did we know that they weren't through with us. We always thought the zombie apocalypse would rise quickly, but we never thought it would start with zombie flamingos. Why, Florida, why?
Buy Now
$14.99
Related Products
Make no bones about it - this kids skeleton Halloween costume is as scary as it looks! Skeletons are a mainstay on the Halloween scene, but it's easy to forget them among the more popular vampires, werewolves, and demons. But this Halloween, your child will stand out in a sea of common creatures with this skeleton costume.Jumping out of closets, rising from the grave, terrorizing the town - these are just a few of the activities skeletons enjoy. From the big screen to the small screen and to the pages of your favorite book, skeletons always make for a fun and interesting character. Some of them have their own sob stories and others are just mindless henchman for the big baddie, but either way, they know what it takes to steal a scene.You won't be the usual bag of bones when you wear this Kids Skeleton Costume. This is a frightening costume for kids that won't make them look like the typical werewolf or zombie. This costume covers you from head to toe and is a unique way to scare their friends (and maybe a few adults) this Halloween. The 100% polyester black bodysuit has latex bones covering the exterior. The included hood has a skull face on it with black mesh so they can easily see. Cover up the last remaining bits of their former human self with the black boot covers and matching skeleton gloves. Before you know it, your child will be ready to haunt the neighborhood in their full skeleton costume!
View Now
24.99
Well you know what they say, 'hell' has no fury like a woman's scorn' so this lady must be really scorned! She's back from the depths of hell to seek revenge on her two-timing husband. Wreak havoc while you're dressed in this Zombie Woman Costume! Pick up a toy knife and the grey bee-hive wig for the ultimate frightening zombie look!
View Now
39.99
Leave yourself in stitches with these white Halloween pantyhose. A great accessory for a skeleton costume; zombie costume; witch costume; and many more these 100% nylon garments are a sure bet for the holiday.Stitched White PantyhosennFabrication: 100% NylonnMachineWashable: No - Hand Wash Warm
View Now
7.99
Comments
comments