MAXX Action Hunting Series Deluxe Crossbow Accessory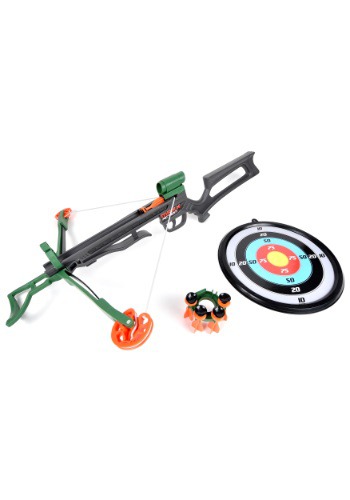 Is your child looking for a weapon to complete his zombie slayer look? This crossbow toy will be just the weapon for his pint sized apocalypse. He can take on all the neighborhood walkers and make sure that his candy stash stays safe. With this fun toy, he could be a big game hunter, or a world famous explorer, or even a trick shot specialist. But make sure he practices with the included target. His new fans will be expecting a real sharp shooting performance!
Buy Now
$19.99
Related Products
Zombie movies and cartoons have become a hit with both adults and kids alike. No longer are zombies just a boring trope in a scary movie, now they are taking center stage in both movies and television shows. Whether your child loves the classic movie zombies or the modern, more human-like zombies, they will love dressing up as a zombie this Halloween.Kids zombie costumes come in all sizes and styles and this Kids Living Dead Zombie Costume is the perfect mix of the classic and modern zombie look. This costume comes complete with all of the gruesome details you'd expect from a classic zombie costume, but with enough modern comforts that they can move around easily on all of their Halloween adventures.This kid's zombie costume is a shirt and pants combo. The pants have an elastic waist for a comfortable fit and the top and pants have matching gray and black poly blend fabric. The molded chest piece attaches with Velcro at the shoulders and gives the costumes it's from-the-grave look. Finally, the molded vinyl mask has slits for the eyes for clear vision and is held in place with an elastic strap. The gory details truly set this full zombie costume apart from the others. Add black boots and gloves to complete the look. Your child will look like they just emerged from the crypt with this realistic costume. No need for any zombie makeup - this costume and mask combo has your child covered this Halloween or for a fun night out in the neighborhood!
View Now
34.99
Women's Long Sleeve Jersey T-Shirt - This blood stain is perfect as a Halloween costume to the next horror party or carnival. Cool Horror, Zombie, splatter motif sore as the perfect complement to latex, scars, horns or open fracture. - This long sleeve jersey t-shirt has a custom contoured fit and is super comfortable. Its perfect for layering in the cold months and great for a lighter outer layer in the warm ones. A core selection of colors makes this a great mix and match item.100% preshrunk cotton Fabric weight: 5 oz (lightweight)Double-stitched cuffs, collar and waistReinforced shoulder construction retains shape and elasticity, comfort and support cuff and bottom hemImported; processed and printed in the U.S.A. + + + With hundreds of designs - Spreadshirt - is the online destination for your favorite tees. Many of our designs are available in mens, womens, youth, kids and baby sizes and come in a variety of different colors. Check our Rakuten store to see them all!
View Now
30.49
Since zombies are essentially dead (technically undead, but we won't get into the details) they really don't have much interest in the opposite sex. And really the only time they get to interact and meet others is when they're sharing the flesh of a fresh cadaver. All the same we're sure your good looks in this mask will be appreciated by both the living and that not-so-living. One half of your face will look remarkably intact, and the other half? Not so much....
View Now
39.99
Comments
comments