Adult Rotten to the Core Costume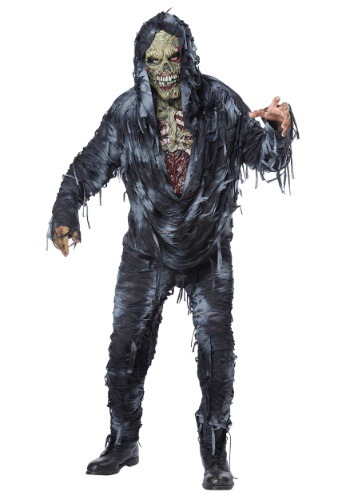 The zombie apocalypse seems like a pretty rough deal for humans. After it happens, we're destined to live a life of constant fear, jumping at every little sound that might be a legion of the undead. We're fated to become resourceful survivalists, scavenging for any supplies we can get our hands on, lest we become a quick meal for the living dead. But do you know who doesn't have a rough time of it during the zombie apocalypse? Zombies. For them, it's like an all you can eat buffet of delicacies. That's why you should ...
Buy Now
$54.99
Related Products
You just know that a zombie isn't going to have perfect tights or pantyhose. Her clothes are torn & dirty, so her tights should be, too. These Ripped Tights are perfect for that tattered zombie look. But you'll have to come up with your own supply of brains to snack on.
View Now
4.99
rntLiven up the party when you arrive in this Living Dead Girls Zombie Costume. The undead outfit includes a tattered dress and footless tights. Make up a story about how you died and what brought you back - have a hauntingly good Halloween.rntrnrntrnttThe Living Dead Girls Zombie Costume consists of a black stretch dress with brown tattered layer on the body of the dress; long black sleeves; tatter edge hem; scoop neck and black run/tattered footless tightsrntrnttClosure (Zipper; Tie; Velcro…)- Dress: PulloverrntrnttMaterials/ Fabrics- Dress: Knit PolyrntrnttWash/Care Instructions- HAND WASH SEPARATELY IN COLD WATER. ONLY NON CHLORINE BLEACH WHEN NEEDED.LINE DRY. DO NOT IRON LEGGINGS HAND WASH COLD WATER. DO NOT BLEACH LAY FLAT TO DRYrn
View Now
34.99
Master Shi Vampire Costume Adult Costumes - This Master Shi Vampire Costume includes the purple satin oriental style robe with black letter print with red edging, and the purple and black hat with red tassels. Great couples costume with your date dressed in the Asian Hopping Doll costume! Also great as an Asian Zombie Costume! TRAD1102-MS
View Now
15.83
Comments
comments