Sexy Zombie Bride Costume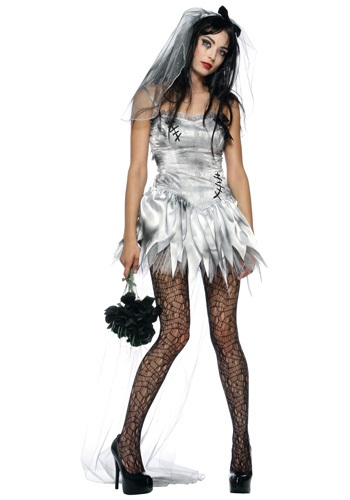 After waiting for years and years, you're not going to let a little zombie bite stop you from walking down the aisle are you? Sure. Your groom may be a little frightened and concerned, but if he truly loves you (like I think he does) then he should be able to overlook this little... detail. And if not, well... till death do we part. Take a bite out of your wedding with this Sexy Zombie Bride Costume.
Buy Now
$49.99
Related Products
Zombie movies and cartoons have become a hit with both adults and kids alike. No longer are zombies just a boring trope in a scary movie, now they are taking center stage in both movies and television shows. Whether your child loves the classic movie zombies or the modern, more human-like zombies, they will love dressing up as a zombie this Halloween.Kids zombie costumes come in all sizes and styles and this Kids Living Dead Zombie Costume is the perfect mix of the classic and modern zombie look. This costume comes complete with all of the gruesome details you'd expect from a classic zombie costume, but with enough modern comforts that they can move around easily on all of their Halloween adventures.This kid's zombie costume is a shirt and pants combo. The pants have an elastic waist for a comfortable fit and the top and pants have matching gray and black poly blend fabric. The molded chest piece attaches with Velcro at the shoulders and gives the costumes it's from-the-grave look. Finally, the molded vinyl mask has slits for the eyes for clear vision and is held in place with an elastic strap. The gory details truly set this full zombie costume apart from the others. Add black boots and gloves to complete the look. Your child will look like they just emerged from the crypt with this realistic costume. No need for any zombie makeup - this costume and mask combo has your child covered this Halloween or for a fun night out in the neighborhood!
View Now
34.99
Walking Dead Deluxe Adult Decomposed Zombie Costume includes Mask, molded chest with attached shirt top
View Now
35.69
Zombie Icons Punk Rawk Costume, XL (14/16)
View Now
16.92
Comments
comments