Adult Dr Hugh B Dead Zombie Costume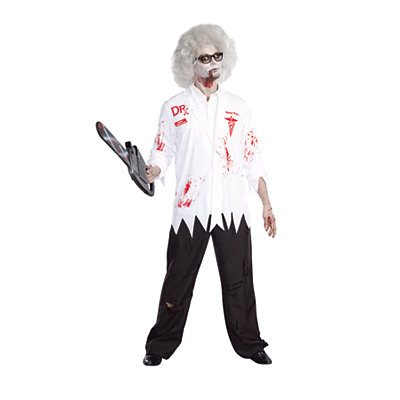 rntSarcastic and spectacularly spooky? Than you need the Dr. Hugh B. Dead Adult Zombie Costume! Throw on this blood-splattered jacket with your famous name stitched in and get to work! Everyone will know the crazy doctor is in the house with the funky white afro you're sporting. See the terror of your victims with your black rimmed glasses; and check-in on all those heart-pounding nurses.rnrntrnttDr. Hugh B. Dead Adult Zombie Costume includes:rnttrntttrnttttLab coatrntttrnttttMustacherntttrnttttWigrntttrnttttGlassesrnttrntrntrnttPants; shoes; saw and makeup not includedrntrnttMaterials: 100% Polyester (Exclusive of Decoration)rntrnttWash/Care instructions: Hand wash in cold water; only non-...
Buy Now
$0.00
Related Products
Sexy Bloody Dress Zombie Costume Sexy Costumes - This sexy Bloody Dress would be great as a Zombie Costume! Wig available separately. ZOMB37-WO
View Now
8.48
And there he goes dodging past a couple tackles right after a beautiful pass. He's making his way down the line just dragging past every defender and now he's on the breakaway sideline! He's at the 30, the 20! Oh but wait a minute there's a defender catching up to him...He goes for the diving tackle and gets a hold of a leg! Oh but the running back keeps going! Wait a minute where did his leg go? The defender still has it! He's hopping passed the ten, the five, and he dives for the touchdown!!! I can't say I've ever seen anything like it! Wait a minute, he's standing up for some sort of celebration. Oh my goodness he's actually eating the ball! Somebody go tell our very first professional Zombie football player that the ball is not a brain! You just can't write this kind of stuff! (well unless you're a copywriter here!) Sure, zombie football players might not have the speed of a regular football player, but they're much more tenacious. Once you turn your child into a member of the undead team with this zombie costume, don't be surprised if he keeps chasing after the guy with the football long after the game is over. His game isn't over until he eats his brains. Let's me sure he doesn't do that. It might result in a little bit more than a 15 yard penalty!
View Now
29.99
Mirror mirror, on the wall. Who's the fairest of them all? Now that Snow White got infected with the zombie virus, not her. Now she just wanders across the countryside trying to devour the flesh of the living. The good news is, you won't have to worry about doing the Dwarfs' laundry after you become zombified in this slightly gruesome outfit.
View Now
54.99
Comments
comments