Men's Plus Size Day of the Dead Costume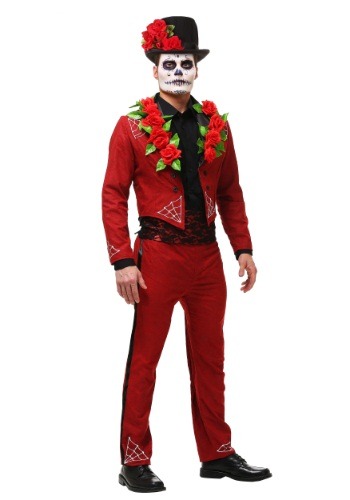 If you're trying to look both classy and scary this Halloween there are a few routes you can go. You could go with the classic Dracula costume or the less classic billionaire spider... even with a bow tie and multiple monocles, a spider is still terrifying. However, we would suggest you get your hands on this Men's Day of the Dead Costume!This blood-red faux suede jacket and the matching pants have a butt-load of class! Worry not, though, this costume is just as frightening as it is formal. You'll look like a menacing messenger ...
Buy Now
$64.99
Related Products
This adult Walking Dead Hoodie Zipper-Fleece sweatshirt is an officially licensed product and features our cool Daryl Dixon Costume design printed on soft polycotton. This hooded sweatshirt features blood-stained printing on the front and back, including Daryl Dixon's signature ear necklace and cross-bow. Also included is a zipper front and side pockets.
View Now
0.00
Walk into that next dead party with this full replica of the uniform from the hit series walking dead, even if you've outgrown trick or treating, you're never too old wear a costume, do you want to revisit over-the-top halloweens you enjoyed as a child? Maybe you didn't get the costume you really wanted back then, whatever the reason - or the season - wearing a costume can be a lot of fun, on halloween you might dress up to take the kids trick or treating, to hand out candy, or for a party; or try getting together with friends or family and dressing up in coordinating costumes (ever wanted your own band of superheroes?), but just like kids enjoy dress-up play year around, so can you, costumes let you be someone completely different than you really are, or maybe they show a secret side you want to share and just like kids' costumes, rubie's adult costumes can be sexy, funny, scary, glamorous, or, whatever you're looking for, rubie's costume company has been bringing costumes and accessories to the world since 1950, as the world's leader we take seriously the mission to make dressing up fun, mascots, rental quality costumes, masks, wigs, accessories, shoes, and every significant licensed costume you want to wear can be found under the rubie's brand, still family owned, still family focused; rubie's brings you fun for every season, halloween, christmas, mardi gras, easter, and all in-between
View Now
19.49
Keep Away-Turn Back-ZOMBIE INSIDE-DOOR COVER-Walking Dead Horror
View Now
0.00
Comments
comments